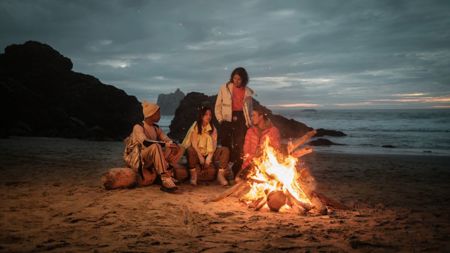 ---
Canada Goose Spring 2022 Live in the Open Campaign
Nuevo
---
Canada Goose engaged with Nuevo as their Production Partner to support in bringing this campaign to life, to capture and deliver aspirational content that resonates and supports their aspirations to connect with Gen Z and Women as they build as a brand.
Centred around a narrative of 'Retreat to Basecamp', we brought together a curated group of Gen Z talent on a multi-day elevated outdoor experience to celebrate the season and inspire the community to thrive in the world outside.
Partnering with actor, photographer and director Cole Sprouse, Nuevo planned, produced and executed the whole campaign - leaning on credible, talented and leading partners, suppliers and creatives.
Through conscious decision making and smart, ethical choices during planning, pre- and post-production, Nuevo dramatically reduced the environmental impact this production would have had, with the goal in mind to execute the production in the most sustainable and green manner possible, without detriment to the end output.
By doing this we reduced the environmental impact by over 50%, meaning we only had to offset 25 tonnes of CO2 through our partners. Nuevo also made charitable donations to Big Sur Land Trust, Big Sur Fire Department and provided over 75 hot meals to a local homeless shelter in order to highlight, and help, key environmental, social and economic issues.
With a combination of stunning locations, world-class creatives and Gen Z talent - the output of this campaign across the hero stills, environmentals, 1 minute film and social cutdowns was brought together in the most conscious way.