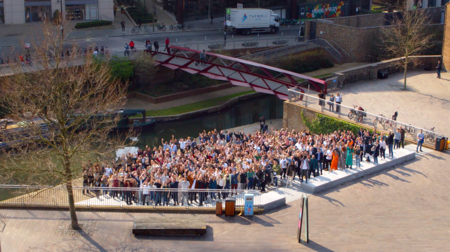 ---
Havas UK
Havas
---
In 2018, Havas London became the first major advertising agency to certify as a B Corporation: a business that balances purpose and profit, and one legally required to consider the impact of its decisions on employees, customers, suppliers, its community, and the environment.
It was a (low-energy) lightbulb moment. Since then, Havas UK has been on a mission to do likewise – achieving certification not just for one agency, but at-scale as a group, spanning all our UK agencies and more than 2000 people – becoming one of the UK's largest B Corporations and the first in the advertising industry to do so at group level.
From our BREEAM 'outstanding' rated home – with 100% renewable energy, zero waste to landfill and a living sedum roof that absorbs carbon dioxide – to 'triple bottom line' legal articles which place impact on people and planet alongside profit, we don't believe any other group in advertising has done so much, at-scale and in such a broad range of areas, as we have.
We are active members of Ad Net Zero and sit on its working and steering groups, became the first company to undertake Purpose Disruptors' advanced #ChangeTheBrief sustainability training, co-founded AdGreen and helped develop its Carbon Calculator, sit on the IPA Media Futures Climate Charter Group, and were the first agency to join the Conscious Advertising Network. In 2022, we even launched our own sustainability consultancy to help our clients implement systemic sustainability. There's more to do, of course, but we're doing everything we can.