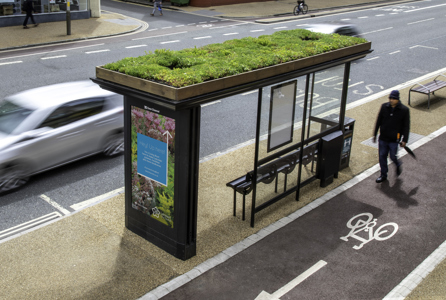 ---
Improving practices and setting honest, achievable goals
Clear Channel UK
---
Environmental sustainability is nothing new to Clear Channel: between 2008 and 2021 we reduced our carbon footprint by a whopping 60%. As the world slowly emerged from the Covid haze, we decided to take stock, and reassess our sustainability approach. The aim was to re-establish what best practice looks like, underpinned by transparent and honest reporting, then set new achievable Carbon Net Zero goals to work toward.
We identified three headline objectives: the setting of science-based targets, development of a greener estate, and the continued reduction of the environmental impacts of our business. To deliver on these objectives, a long list of projects and initiatives was formed or accelerated, including our first-ever Carbon Disclosure Project submission, completion of nationwide LED lighting installations, transition to a low emissions fleet, introduction of more energy efficient screens, the national roll-out of 'Bee Bus Stops' and responsible carbon offsetting.
While there is more work still ahead of us, our data and reporting is more robust than ever and we know exactly what's got to be done in the coming months and years. Our efforts have been recognised by the Planet Mark certification in 2021 and 2022, providing confidence and transparency around our progress. Our science-based target and Carbon Net Zero transition plan were put firmly in place as we publicly committed to becoming Carbon Net Zero by 2030 across Scope 1 and 2 emissions and by 2045 across Scope 3 emissions.