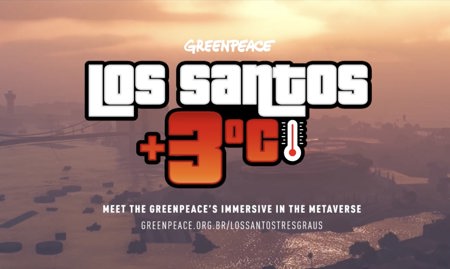 ---
Los Santos +3ºC
VMLY&R Brazil
---
Client: Greenpeace

Greenpeace turned one of the most popular online games today into the most immersive climate change simulator ever.
Los Santos, the land of GTA Online, is an immersive replica of Los Angeles. A perfect real-life simulator made with thousands of actual city footage. Many years of unstoppable research and development by Rockstar has made GTA the most realistic game of our time. As GTA Online has online servers with open code, it's possible to "hack" and change everything.
In partnership with their own scientific team, Greenpeace used real future predictions to develop Los Santos +3ºC. An entire metaverse half-underwater, afflicted by heat, drought, air pollution, and a full-blown economic crisis, with climate refugees and many other real challenges. It also has exclusive missions, a full-scale radio station, a complete out-of-home campaign with futuristic ads, and more.
It's the cross of all information Greenpeace needs to deliver and the entertainment the Gen Z wants to receive.
Beyond awareness, players were able to sign the petition and donate inside the game, without interrupting the experience. At the launch, Brazilian top streamers were invited to become ambassadors of the project. They broadcast the immersive content for an entire week on Twitch. Voluntarily. Their content was spread on social networks, reaching and engaging a wider community to play, stream and act against climate change.