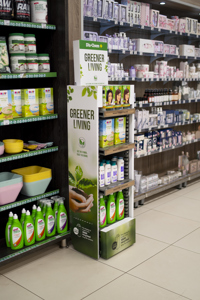 ---
PolyAL Display
Barrows Global
---
Barrows Global set out to tackle the wastefulness associated with single-use short-lived temporary promotional campaigns in the South African retail environment. Their approach was to compile a design and engineering brief that placed equal importance on form, function and footprint with the aim of developing a decarbonised and circular temporary promotional display solution. Design was to be driven by circular economy principles, specifically designing waste out of the system and keeping products and materials in use; as well as a science-based approach by using life cycle carbon modelling to make informed sustainable design decisions.
After a year, Barrows launched a disruptive, reusable, zero-waste temporary display solution that consists of a permanent upcycled core made from 100% post-consumer long-life cartons that would get branded with a campaign sleeve each month. The corrugated sleeve consists of 70-80% less corrugated board than a traditional temporary display and contains up to 67% recycled content. A comparative life cycle assessment revealed a 37% carbon saving over a 2 year period compared to single use temporary displays. This was independently calculated and verified by an environmental consulting company. Furthermore, brands benefit from a cost saving of up to 20%
The PolyAL Dis-Chem Eco-Display programme has been successfully running for 23 months. Currently 812 displays are rented in 152 Dis-Chem stores nationwide with over 140 campaigns that have been on the programme. This equates to 2.842 million cartons diverted from landfill and over 100 tons of carbon saved.
Sustainable, cost effective and scalable.