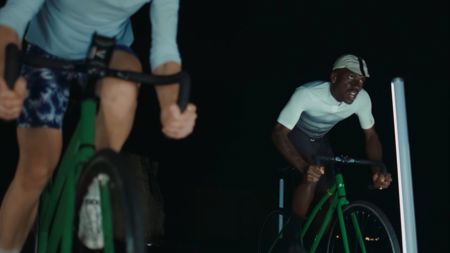 ---
Racing To Zero
Mamapöol
---
Client: Hitachi

If you are going to make a film, to champion Hitachi's partnership with the United Nations Climate Conference (COP26), shouldn't it be the world's first carbon zero film? After all, how could we ask global leaders and the world to reduce emissions, if we couldn't do so ourselves?
And we wanted to do it properly… to film on location, with talent, no cheating, no carbon off-setting, no animation or virtual studios.
That was the impossible challenge Mamapöol set themselves and very nearly pulled off.
In the end, with Rattling Stick leading the production charge, we managed to shoot from dusk till dawn, with 30 people on set, without emitting any CO2 at all. The whole set (lighting, cameras, drone, projector) was powered by just seven cyclists and one solar-powered generator, so we could claim the film was 'the world's first to be powered with zero carbon emissions.'

The whole production process including pre-production and post-production (Absolute Post) was independently assessed and audited.
In the end, we emitted just 0.75 tons of CO2, mostly because heavy equipment transportation still relies on diesel trucks… a project Hitachi is working on.
The average film shoot emits a massive 33 tonnes of CO2 per day which we reduced by 97.5%.
This film sent a message to everyone at COP26 and highlighted that there is still an enormous amount of work to be done in transforming trains, transport and EV charging around the world - work that Hitachi is embracing.