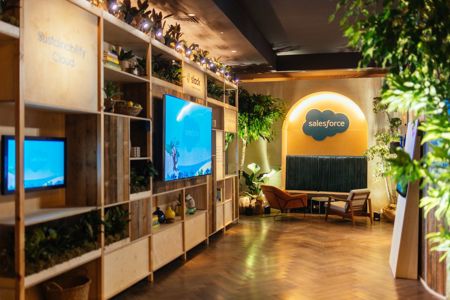 ---
Salesforce COP26 Lodge
Smyle
---
For Salesforce, sustainability is a core company value. It demonstrates industry climate leadership and its products help customers achieve carbon neutrality. A presence at COP was a natural extension for the brand with an activation that was forward-thinking and ambitious, while authentically committed to Salesforce's sustainability mission.
The Salesforce COP26 Lodge was an event space suitable for 'ecopreneurs' and influential event attendees to meet company staff and leaders. Not just a superficial exercise, the space was designed from the bottom up with sustainability in mind.
An existing venue in Glasgow was transformed using reclaimed wood, rented furniture and where vinyl was required, it was recyclable. The small amount of furniture that was not rented was donated to charities to extend its life cycle. Electricity was renewable and gas carbon neutral.
Event catering featured vegan, vegetarian and pescatarian options. The vegetarian food choices alone save almost half a tonne of CO2 emissions. 93% of materials were reused, donated or repurposed, proving that high quality events can be created sustainably and still be a fun and interesting environment to enjoy.
Suppliers were vetted and minimised to reduce the number of truck movements and Smyle staff, with the exception of a few, eschewed air travel for rail, lowering carbon impact. Local staff and suppliers were employed where possible.
The Salesforce Lodge was proof also that designing sustainable events is not more expensive. The entire event came in 3% under budget and that money was donated to the Global Forest Generation charity.