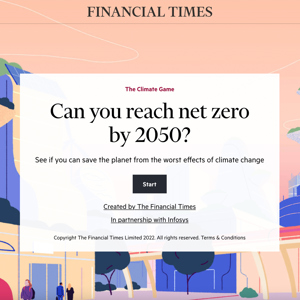 ---
The Climate Game
Infosys, Financial Times, WONGDOODY
---
The climate crisis, in its near overwhelming enormity, is one of the defining issues of our time. But educating the public on climate change's impact on society, finance, business and politics in an engaging way can be challenging for even the most adept journalists.
The Financial Times wanted to ask its readers 'What will your world look like in 2050?' a question we felt could only be answered through participative content—a mechanism that would allow the reader to make decisions, see their impact and share their learnings with their network.
In April of 2022, the FT published The Climate Game, a lavishly-illustrated interactive game developed in partnership with Infosys in which readers are elected 'Minister for Future Generations' and tasked with cutting emissions to net zero to keep global warming below 1.5C. Placed at the heart of the decision-making, the player must also balance the trade-offs and actions necessary to protect people and nature.
Working with climate modellers from the International Energy Agency, who produced bespoke modelling for the FT, we simplified the road to net zero emissions in order to create a game that we hoped would appeal to policy makers and younger and non-specialist audiences alike.
Crucially, the game likely represents the first time that the cause and effect of actions across key emissions sectors and policy levers have been in the public domain in such a digestible format.