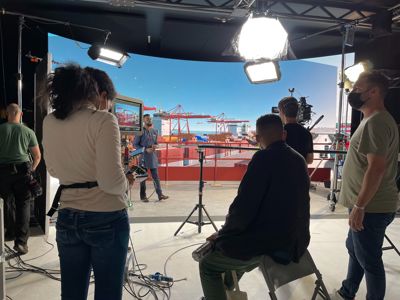 ---
Create Responsibly
Create
---
Create is CNN International's global in-house brand studio – a team of creatives dedicated to creating powerful and emotive storytelling for brands that speaks to CNN's audience.
Our 'Create Responsibly' strategy:
1. Become an industry leader in sustainable branded content productions
2. Minimize carbon emissions and offset all global productions by the end of 2021
3. Employ new technology and techniques to maintain our high production values
In early 2021, we began measuring our impact by using the Albert carbon calculator tool and certification. This enabled us to make conscious and specific decisions in the pre-production phase and find sustainable alternatives before going into production.
In 2022, we began using the AdGreen process for certification which is more applicable to short-form commercial and branded content, completing the online toolkit to enter key production data related to transportation, materials, spaces, disposal, and fuels.
We've now joined the steering group for Ad Net Zero and are committed to its five-point action plan of the advertising industry's drive to reduce the carbon impact of developing, producing, and running advertising to real net zero by 2030.
We set a goal of minimizing emissions and offsetting all films produced globally by the end of 2021, something we achieved by the autumn of 2021. 21 films with Albert and 2 with AdGreen, receiving sustainable production certification for 16 films.
The next focus for our offering is driven by a commitment to devising bold content that's also sustainable.