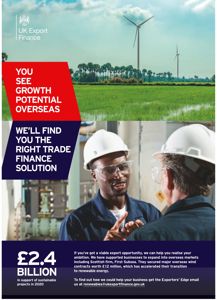 ---
Exporters' Edge renewables campaign
UK Export Finance
---
UK Export Finance (UKEF) is the UK's export credit agency and a government department, strategically and operationally aligned with the Department for International Trade. UKEF supports UK-based companies of all sizes export to over 200 countries. Our support enables them to access finance and insurance when there is a lack of private sector risk appetite or capacity. Our mission is to advance prosperity by ensuring no viable UK export fails for lack of finance or insurance, doing that sustainably and at no net cost to the taxpayer.
In Financial Year 2021/22 following the announcement that UKEF would no longer support overseas fossil fuel projects UKEF launch a renewables element of the Exporters' Edge campaign to engage c-suite execs in the renewables/clean tech industries and business looking to transition into those industries. The campaign engaged these business leaders through a paid media campaign using relevant trade publications, events (including an event at COP26 in Glasgow) and through the use of PR – where we highlighted case studies and our work in the clean growth space in national press.
The campaign helped engage key decision makers in businesses in the UK and around world which helped UKEF to support more clean growth projects by value than before - £3.6bn supported, which was the largest amount of any export credit agency in the world in the last financial year and resulted in UKEF being given numerous awards for our clean growth support.