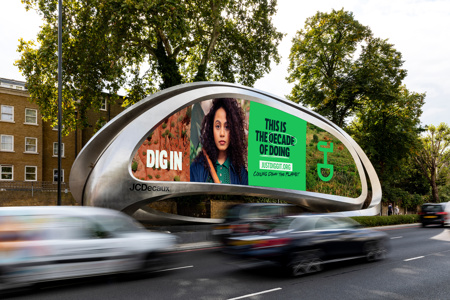 ---
How JCDecaux's virtuous business model embeds sustainability throughout our business
JCDecaux
---
Sustainability has been part of JCDecaux's DNA, ever since our earliest days when Jean-Claude Decaux conceived the idea of providing well-designed street furniture (bus shelters) funded by advertising, a virtuous business model that today spans the globe, with the mission to provide service to people and municipalities with products that enhance life in cities sustainably. Today 50p in every pound spent on Out-of-Home media with JCDecaux UK goes back into the community.
JCDecaux places a huge focus on having audited and reliable data to help steer our sustainable development strategy and sustainability informs every part of our business from how we design, maintain and recycle our products to how we work with our partners and supply chains.
In our 'ESG Roadmap to 2030' publication, our Group have set out our achievements and our goals as we continue our sustainability journey. We are proud to share that 100% of our energy for our UK business is covered by renewable sources and 98% of our waste is recycled, close to our 'zero-to-landfill' target. We have an ambitious plan to reduce JCDecaux UK real carbon emissions to achieve Net Zero by 2030, building upon our success so far.
In 2019, JCDecaux UK became the first media group to reach the prestigious 'A list' of CDP (Carbon Disclosure Project), and our success is demonstrated through our inclusion in the indexes and rankings of the prestigious FTSE4Good index, CDP, MCSI and Ecovadis