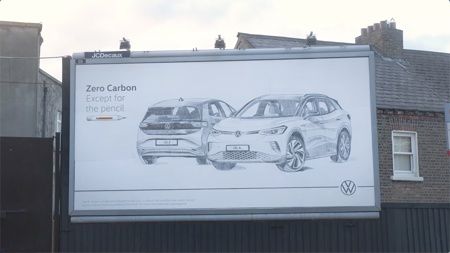 ---
The Zero Carbon Billboard
BBDO Dublin
---
Client: Volkswagen

Volkswagen's 'Way to Zero' mission promises sustainable mobility for everyone - continuing its tradition of mass mobilisation, but in innovative ways that substantially reduce the impact on our planet.
Our brief was to underline Volkswagen's sustainability leadership by reminding Irish drivers of the zero carbon credentials of Ireland's bestselling all-electric cars: Volkswagen's ID.3 and ID.4. We needed to reach mainstream motorists at scale, but had a duty to do so in a manner as extraordinary and sustainable as the zero carbon vehicles themselves.
We turned to the humblest tool of them all: a pencil, and chose the biggest blank canvas of them all: a 48-sheet billboard. We hand-drew, in pencil, in-situ and over 48 hours an (almost) zero carbon billboard advertisement, simply yet powerfully highlighting the zero carbon credentials of the Volkswagen ID.3 and ID.4.
The Zero Carbon Billboard successfully reached a national mainstream audience of 966,400 and did so at a time when 32% of printed outdoor advertising is non-recyclable, and a single digital out-of-home site is estimated to consume the equivalent energy of three family households. https://vimeo.com/711709267